About Us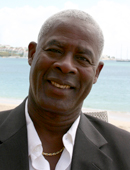 Clarence Otto Bernard Derby
Born February 12, 1949
Barroullie, St. Vincent
Clarence Derby migrated to St. Maarten in 1971 and is now a Dutch citizen. Clarence is the General Manager of Mullet Bay and the Towers at Mullet Bay. He joined the Mullet Bay Group in March of 1973 and is still with the company.
Mr. Derby continues to make significant contributions to culture and entertainment in St. Maarten. He is best known as one of St. Maarten's best songwriters and concert and event promoters. As a song writer, he has written songs for top local calypsonians. His writing also includes jingles for some of the major companies on the island, such as Kentucky Fried Chicken, Burger King, McDonald's, NAPA, Vlaun & Son, Bacardi Rum, Absolute Vodka, J & B Scotch, and most recently TelCel, one of our local cellular providers. Mr. Derby also wrote the theme song for St. Maarten's quest to become a separate country within the Kingdom, along with many other songs too numerous to mention.
As a concert promoter, Mr. Derby is one of the most respected promoters on St. Maarten. He is known for organizing quality concerts attracting top recording artists in the Caribbean and North America. For twenty-seven years Mr. Derby has been instrumental in helping to develop St. Maarten's annual Carnival. He has been seated on the Carnival Committee holding many different positions from time to time.
Mr. Derby's objective as President of the St. Maarten/St. Martin Summer Fest is to develop a unique summer festival stretching over all the weekends of July annually providing the best entertainment with the intention of making St. Maarten/St. Martin Summer Fest the number one summer festival destination in the Caribbean.
St. Maarten/St. Martin is one of the most unique islands in the Caribbean. It is the smallest island in the world sharing two different flags; Dutch and French. Its population consists of over eighty different nationalities, all living in a peaceful and respectful atmosphere. The island has 38 beautiful beaches and over 500 restaurants branding it the "Cuisine Capital of the Caribbean". With casinos, shopping and some of the friendliest people in the world, our intention is to package our St. Maarten/St. Martin Summer Fest with all of the above, therefore providing the opportunity for us to develop a very unique product for our island.